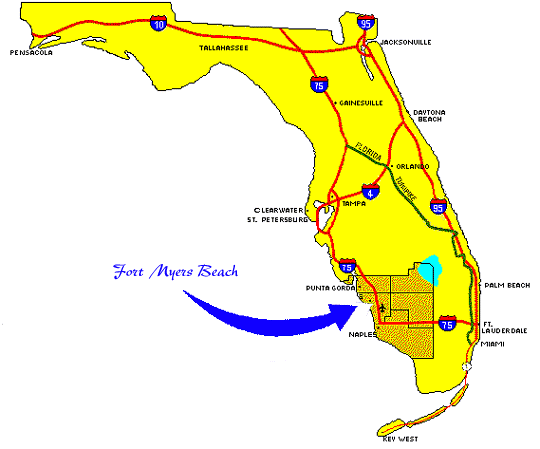 ---
Getting Here...By Air
Southwest Florida International Airport (239)768-1000; located in Lee County, off Exit 21 on Interstate 75, providing direct access to Fort Myers Beach via an easy 45-minute drive. The airport is served by nearly all major airlines.
Orlando International Airport (407)825-2001; located 7 miles south of Orlando; take I-4 south to I-75.
Miami International Airport (305)876-7077; located 5 miles northwest of Miami; take I-75 west.
Fort Lauderdale/Hollywood International Airport (305)357-6100; located 4 miles south of Fort Lauderdale; take I-75 west.
---
Getting Here...By Car
Interstate 75: Take Exit 21 (Daniels Parkway) west to Summerlin Road. Then follow Summerlin Road to San Carlos Boulevard, turn left and cross the bridge onto Estero Island.
Interstate 95: If you're driving into Florida from the North via Jacksonville, take I-95 south to I-4; take I-4 west to I-75, then follow the directions above. If you're on Florida's east coast and choose to bypass the Orlando and Tampa areas (both off I-4), take I-95 south to Fort Lauderdale and follow the signs directing you to I-75 west (toward Naples).
Car Rentals; You'll need a valid driver's license, proof of auto insurance and a major credit card. (Some rental agencies have minimum age requirements, too.) Nearly all major car rentals are available at Southwest Florida International Airport; it's best to make reservations before you arrive.
City
Distance (miles)
to Fort Myers Beach
City
Distance (miles)
to Fort Myers Beach
Clearwater
145
Orlando
175
Daytona Beach
230
Palm Beach
144
Ft Lauderdale
155
Sarasota
90
Gainesville
250
St Augustine
270
Jacksonville
305
St Petersburg
130
Key West
290
Stuart
155
Miami
235
Tallahassee
375
Naples
45
Tampa
145
Ocala
215




Copyright © 1994-2003 CocoNet Corporation. All Rights Reserved.